Richard Winters Owner / Inspector - Armada Inspection Services
Richard Winters Owner / Inspector of Armada Inspection Services, cares about his clients and their home buying experience. He understands that buying a new home can be a stressful and time consuming process. This is why we inspect every home as if it were for our friends, family, or ourselves and we do the same for our clients. We help our clients by providing the additional information needed to make their home buying decision with confidence.
Our goal is to present you with the details and information you need to make a confident and stress-free decision when purchasing or selling. 
Our inspection team professionally and systematically examines the home, property, and buildings. The result is a detailed inspection report like no other, delivered to our clients the same day as the inspection, late day inspections by 8am the next morning. 
Richard Winters was born and raised near Roebuck, right here in Leeds-Grenville. He has been involved in construction since an early age. Being hands on is all that he has ever known. Rather then go to college to finish his machinist apprenticeship he decided to see the world and serve his country at the same time, so he joined the Royal Canadian Navy as a Hull Technician. The training requirements for this trade were so tough it had one of the highest failure rates in the military. 30 years later, Richard retired as a Chief Petty Officer Second Class. 
Hull Technicians are experts in the fields of all things Structural, Mechanical Systems, Fire Fighting, Helicopter Crash Rescue, Damage Control, and Inspection. They are Master Fabricators, Installers, and Repair Technicians. They are also known to be among the very best Quality Assurance (QA) and Safety Inspectors in the Navy. They are highly sought out by industry. Hull Technicians were Reconstruction Estimators in Bosnia & Armor Upgrade Fabricators & Installers in Afghanistan. They get around. Hull Technicians of his skill level are granted 3rd year apprentice status in more than 8 Red Seal trades. He is currently working towards 4 of these certifications.
Over his career, Richard has worked on numerous Habitat For Humanity construction projects. Hull Technicians are highly sought after on these projects. They are exceptional site foreman, draftsman, blue print readers, carpenters, plumbers, sheet metal workers, heating and a/c, cabinet makers, and trim and finish experts. 
Armada is the Spanish word for Navy. The Armada logo is the work of a New Zealand artist. It is the Maori face of Neptune.
Rick is a proud member of the Ontario Association of Certified Home Inspectors (OntarioACHI) and the Canadian Association of Home and Property Inspectors (CAHPI). Richard is a CAHPI National Certificate Holder and is also a WETT Certified Technician, Installer, and Chimney Sweep. 
Be warned. Don't get him talking about old cars and hot rods. He loves to build them and work on them. He just loves hot rods, especially his 39 Plymouth and 62 GMC Step Side that Carol Anne likes to claim as hers…
Each inspection is unique, yet one thing will remain constant. Armada Inspection Services will bring the best diagnostic equipment to every inspection. Richard Winters is a stubborn, detail driven individual who pushes to do his very best daily.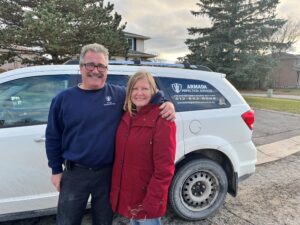 Carol Anne is Richards better half and his inspection partner. Carol Anne was an Insurance Broker in Nova Scotia before they moved back to Ontario. She is Richards safety number when he is in tight spaces and she has a keen eye. Together they don't just check a few things here and there, they check everything they can which makes for an incredibly thorough and detailed inspection report that their clients truly appreciate.